The second largest Amazon account in Germany has already been suspended for a few days. The reasons are unclear. Rebuy has no more offers listed on Amazon. The Berlin retailer is the ninth largest account worldwide and behind Medimops the number two in Germany. Rebuy sells used goods from the media, book and consumer electronics sectors. The company employs around 490 people and in 2018 had a turnover of almost 140 million euros.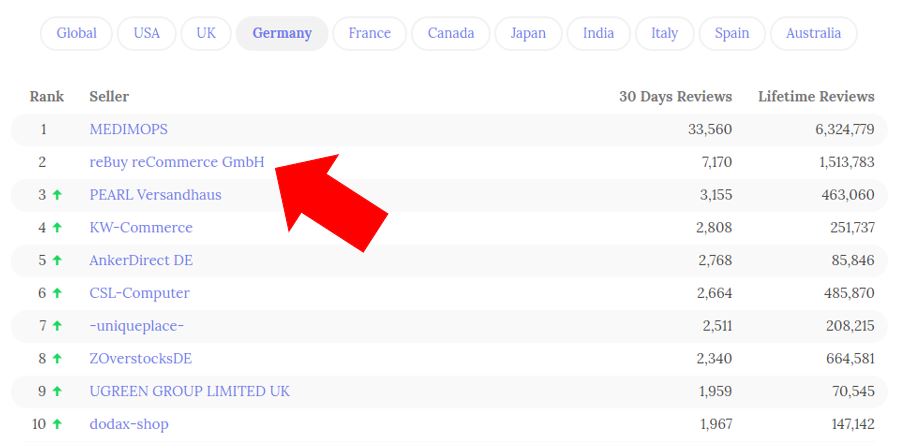 Unclear reasons
There was little to learn from the market. Amazon itself did not respond to the request and also rebuy did not answer the request until the publication of this article. Market participants spread the rumor that a bad Amazon algorithm that jumps off incorrectly can be a reason. Currently, many Amazon sellers complain that they get articles banned from Amazon because they are in bad condition or fake.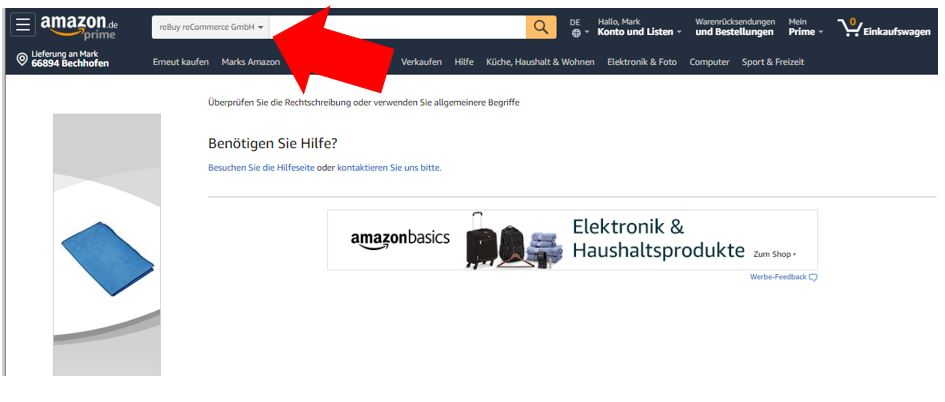 These closures appear to be automated and, according to the sellers, are in most cases unjustified. However, one dealer from the German Top 10 considers this rather unlikely, as he assumes that given the size of rebuy, such an automated error should be quickly corrected. He himself is concerned that Amazon, despite good contacts, is obviously still a "black box". And he hopes that such a suspension will never happen to him.
Rebuy is healthy
On eBay the trader currently lists around 850,000 products. With a score of 99.3% positive ratings, the service level is positive. In the last 30 days, customers rated rebuy positively over 41,000 times and negative 198 times. This is a good performance.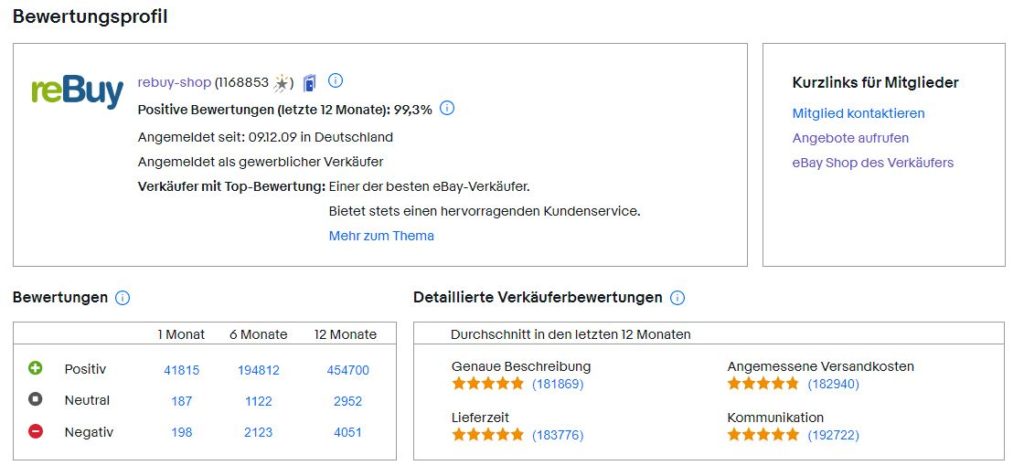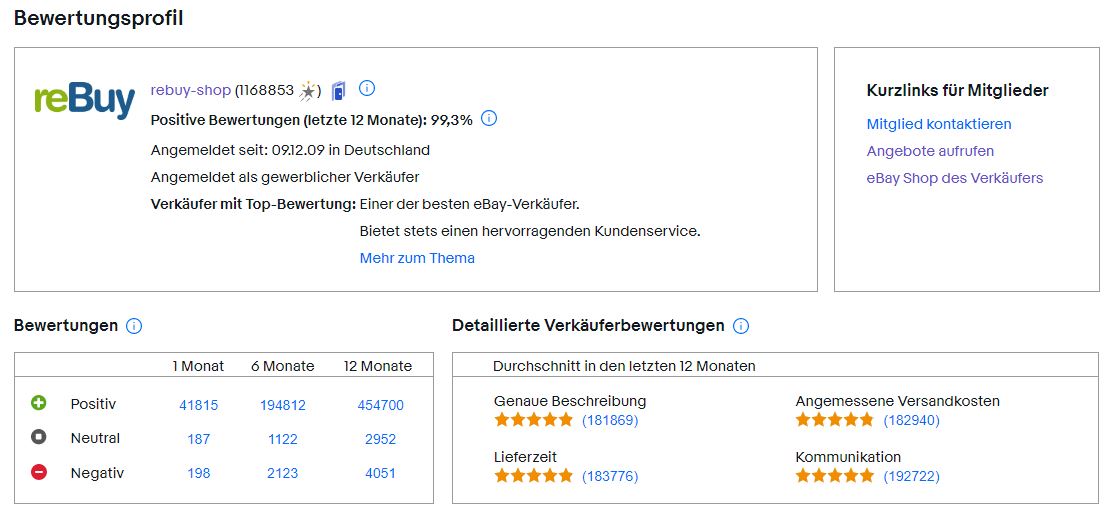 The credit rating is also very good. The Crefo score of 258 is okay. Creditreform certifies a >medium credit rating<. For 2018, rebuy states a turnover of 140 million euros, but generates a minus of 7.2 million euros. Nevertheless, Creditreform's verdict: "Credits will not be refused. A business relationship is considered admissible" and recommends a credit limit of 2.0 million euros.
Size does not protect against danger
To cut to the chase: selling on Amazon is dangerous! And unfortunately this cannot be changed at present. The fact that the Top 2 from Germany are now being hit is worrying, especially since we don't know the reasons. But it also shows clearly how important a multi-channel strategy is. Rebuy has its own platform and also uses eBay very successfully. With more than 41,000 valued transactions, the merchant is also likely to be among the top 3 on the marketplace in Germany. The loss of Amazon's sales is painful, but seems to be manageable given the right strategy.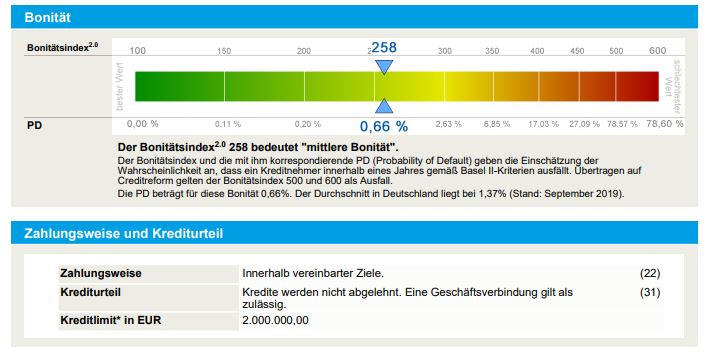 Amazon has never in the past shown itself to be a cooperative and pleasant business partner. On the contrary, there is NO trader who does not have the fear of being suspended in his own Amazon story. But that should not be the case!
Why doesn't Amazon do that?
Why doesn't Amazon set up a separate office to deal with unjustified suspensions or >victims of its own algorithm<. That would be far cheaper than the marketing expenses the company puts into the perception that the e-commerce giant is actually >good< for SME trading. Of course, hundreds of thousands of merchants sell successfully on Amazon and – yes – Amazon is the most important sales channel – undisputed – BUT that is exactly why the company should be interested in a positive perception, right?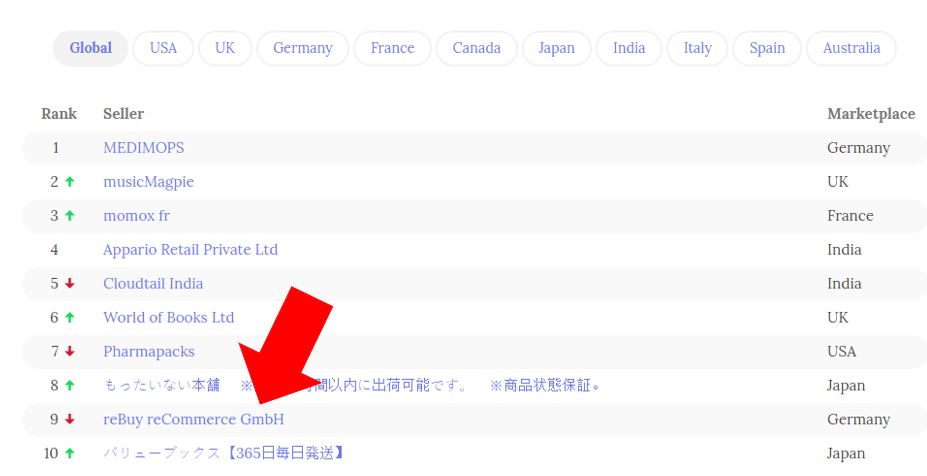 In any case, it seems that Seattle, Munich and Berlin have not yet come to the realization that it is simply bad. Either Amazon itself has to install a >Super-Department< with all internal rights or the call for a marketplace ombudsman is getting louder and louder. Will that be better?
Update 1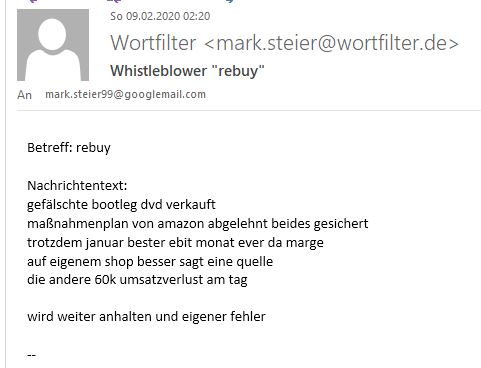 Update 2
In the meantime, some of the information has been confirmed and further explained by a person in charge of the matter. Rebuy has in fact been blocked in France for the time being due to the sale of a >bootleg< DVD. There the case has probably escalated to the point where all accounts were suspended in January.
At the moment it seems to be the Amazon team responsible for France that the account is not released. The source reports that France is under legal pressure.
Translated by deepL.com